So, for a couple of days, I was out of contact with most people.
Heck, I was even out of Facebook range.
I was.. busy.
Like, really busy.
Okay, I'll tell you! Quit badgering me!
I just shot an episode of a tv series.
Now, for the most part, this would normally not be a big deal because virtually everyone I know has done tv. Everyone except… well, me. Seriously, not even a Law & Order, which is like that college math requirement. Everyone's done it, and you feel like a FOOL, if you risk graduation because you didn't get THAT one already!
But, this is a bit of a big deal, because the entire episode was about my character. From beginning to end. So, I discovered what it's like to be the star of the show.
You know what it's like?
It's like being a mom, with seventeen kids wanting your attention for 10 different projects in 12 different directions, all at the same time. And you can't forget what's just been thrown at you, because it all gets used in the next few minutes and… it's for posterity. So, it had better be good. Oh yeah, and and it's all gotta be done… in 2 days. Not much sleep, I can tell you that.
Am I complaining? Hell, no!
Are you kidding?! Most of this year has been spent looking for work. My acting endeavors this year have been mostly… fruitless. And then, in the midst of a drought in the desert… a miracle occurs.
Basically, it's a show about survivors of attacks. I don't know if I can say very much about it. But, I can tell you it was like my own mini horror movie. My character, who is a real woman and basically a badass, gets put through the ringer and lives. I just had to simulate it. It may not be a great performance. It may not even air! But, I did it. And it's SO going on my resume!
If it ever airs, I WILL be announcing it here. And on my email list. And on the roof of my apartment building, with the assistance of a bullhorn. Believe me, you'll hear about it.
I have to thank Kevin Kuffa for recommending me, Gulp Pictures for hiring me, and Christian Faber for directing me. The entire cast & crew for guiding the rookie through her first real TV shoot.
It will take a day for my body to recover and a week to come down from the high.
But right now, the only thing I really need to focus on, as always, is the next job.
Back into the salt mines, kids.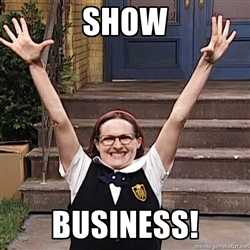 UPDATE: Umm… It aired.
Like, almost a month ago. It's on ID, or you can check it out OnDemand.
(Cut me a break! I haven't been on here in a while!)